Submitted by
global publisher
on Thu, 08/04/2016 - 15:41
English
Intro:
His life is filled with adventures of all kinds to the brim. As a journalist and documentary filmmaker, Pascal Manoukian, a grandchild of Armenian Genocide survivors, has traveled the world for decades. He has witnessed death on the front lines of history and mingled with people who are suffering around the globe.
Story elements:
Text:
His life is filled with adventures of all kinds to the brim. As a journalist and documentary filmmaker, Pascal Manoukian, a grandchild of Armenian Genocide survivors, has traveled the world for decades. He has witnessed death on the front lines of history and mingled with people who are suffering around the globe.
Text:
"Out of all professions, I chose journalism. Of all types of journalism, I chose to cover conflicts. I am often asked why, and the answer came to me through words and images that imposed themselves on me. I wanted to tell about 20 years of global upheavals, but ultimately, I also spoke of my own. Each terrible event took me back to the fate of my family, to that of the Armenians. The lack of outlines of my own story pushed me to draw those of others. We never do anything by chance," Pascal wrote in his book "Le Diable au Creux de la Main" ("The Devil in the Palm of the Hand"), published in September of 2013.
Image:
Text:
                                             Pascal Manoukian in Afghanistan, 1982
Pascal Manoukian was born 60 years ago on April 24. In 1975, during the Yacumo expedition, he made his first contact with the Macuje, an Indian tribe of the Amazon. From that date until 1989, he covered the conflicts burning across the globe as an independent reporter. In 1989 he participated in the creation of the press agency CAPA, first as a video journalist and then as the editorial director from 1995 until 2015. He is the author of numerous best sellers: his latest novel, "Les Echoués" ("The Stranded"), offers a new look at illegal immigration. His first book, "Le Fruit de la Patience" ("The Fruit of Patience," 1982), deals with the Armenian issue through his family's story. "The Devil in the Palm of the Hand" is a collection of his memories as a war reporter.
Image: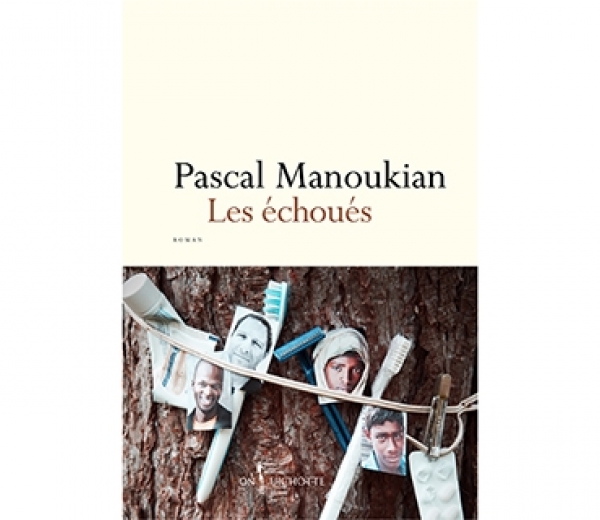 Text:
                             The cover of Pascal's book "Les Echoués" ("The Stranded")
Araxy, his hero
Pascal's paternal grandmother Araxy, the only family member to survive the Armenian Genocide, was a native of Erzurum. Born in a family of peasants in this oriental Anatolia region to father Dikran and mother Tchoury, Araxy was around 10 years old when her fate brutally changed. She was the oldest of her three sisters: Youraper, then "a little mute girl of seven years, soft and fragile;" Nazely, almost four years old and another sister, whose name Araxy did not remember when Pascal recorded the family history 60 years later. 
Pascal describes unbearable scenes of deportations in his book "The Fruit of Patience." Among the atrocities are Tchoury's death from exhaustion, and then that of Youraper. Only Araxy and her little sister Nazely survived the ordeal: "They covered themselves in horse manure to smell bad and escape being raped," says Pascal. 
In Mardin, a city in southeast Anatolia, some Bedouins bought them from their guards. At night, a young Arab took his fiancé Assina on horseback to the edge of town to choose a slave from among the survivors. The stench was so bad that Assina almost fainted. Overcoming her disgust, from atop her horse, Assina inspected the strongest survivors. Nazely was so thin that the Turkish guard accepted selling two for the price of one. Thus, the sisters were saved. Araxy stayed with the couple for three years.
Image:
Text:
                                           Araxy (center) at the orphanage in Aleppo, 1923
"My grandmother regained her dignity through slavery," Pascal explains. Nevertheless, she was devastated a year later by the brutal separation from her sister Nazely, who was sold to a blind dervish. "My grandmother served for three years in the desert. She learned Arabic, was rather well treated and kept her Christian faith. She was collected by Near East Relief, which was gathering Armenians from the deserts. Her owner did not oppose her leaving," Pascal remembers. 
On the train to Aleppo, taking Araxy to her new life, she brought with her a little Turkish boy she had found playing on the road. "This will be one more Armenian!" she exclaimed. 
"Every year, the Armenian director of the orphanage would send postcards to the Diaspora bearing photos of the children in hopes of finding families for them. In turn, some immigrants sent the orphanages their own most flattering photos aiming to find a wife among the orphans and turn her into a French, Argentinean or American citizen," says Pascal.
Araxy ended up finding a job in the prestigious Hotel Baron in Aleppo thanks to her patron Maritza, who was an Armenian from Erzincan. One day, Maritza visited Araxy at work to tell her that she had obtained a visa for France and was leaving for Marseille the next day. Six months later, Araxy received a letter at the orphanage: Maritza found employment for Araxy at a wiredrawing mill in Lyon, where she herself worked. Araxy left Aleppo for Lyon in 1926.
Image:
Text:
A New Year greeting card sent by the Aleppo orphanage director urging young members of the Diaspora to adopt orphans
He talks to himself in Armenian 
Pascal's paternal grandfather Mgerditch Takian, known as Haigaz, was a native of Marash in Cilicia. He was saved by Kurds, went to Greece and found himself next to a dead Armenian woman who had documents in her pockets under the name of Aida Manoukian (a female name). It was an employment contract at a mill in Lyon. Without hesitating, Haigaz took the documents as his own and went to France to work. There, he met Araxy at the mill. "Their timecards were next to each other," says Pascal. Later, the couple moved to Meudon in the suburbs of Paris.
Pascal hails from this working class neighborhood. His mother, who was a native of Ardennes (in northeastern France), married his father Gaidzag against her relatives' advice. The family lived in the same house with the in-laws. "There were many inhabitants. 
I bet it was very difficult for my mother. We were five in the same room. My brothers, sisters and I were all born in the house. My mother did not want us to learn Armenian because, according to her, being Armenian was equal to lacking open-mindedness. 
My father said that one day or another, the Armenian identity would reappear," Pascal says. That is why Pascal called his first book "The Fruit of Patience."
"My mother did not appreciate this first book, and she ended up telling me that it hurt her a lot. My father died six years ago, after much agony. My mother had brought in a Catholic priest, but then she said: 'One moment you ask your father if he feels French or Armenian, and he replies that he does not know, but when he tries to encourage himself, he does so in Armenian. You are right. We need to bring in the Armenian priest.' There was a big commotion at the hospital between the Catholic priest, wearing Polo Lacoste, and the Armenian one with his cross, his songs and his hood. My father died 15 minutes later – he wanted to hear his language," Pascal recalls.
Image:
Text:
Araxy (top row, seventh from left) with the workers of the laundry service where she worked for 36 years
Pascal still remembers the stories of massacres he heard in his childhood, when every other Sunday little Pascal, along with his brothers and sisters, would go to their grandmother Araxy's house. His grandmother took Pascal to the Armenian Church of Jean-Goujon Street in Paris to be close to bring him closer to the Armenian culture and traditions. 
A fearless globetrotter
Pascal was almost 19 years old when he left his family home to spend eight months in the Amazon. He could have gone to Alaska, as he had thought about doing, but what he really needed was an adventure with nothing in his pockets. His family name has helped him on his journeys: 
"Once, in Mexico, I had a hard time. I took the phone book and browsed the directory to choose a random Armenian name. This became a tradition whenever I traveled; generally, I was welcomed,'' he says, smiling.
Pascal made his first documentary with a journalist friend in Afghanistan, where he settled in October 1979. "There was a guerilla war. We went there three months before the invasion of the country by the Soviets," he remembers. There, he met a young French humanitarian, Bernard Kouchner, from the NGO Médecins du Monde. "He was looking for help to establish a field hospital. We found an open-minded Pashtun and a French rebel chief who helped us. Bernard has become a good friend since then," Pascal says. When Kouchner became Secretary of State for Humanitarian programs in France, their paths crossed again in Sudan, Somalia and later in Kosovo, where Pascal shot a movie about Kouchner's contribution to reconstruction of the Balkans.
Image: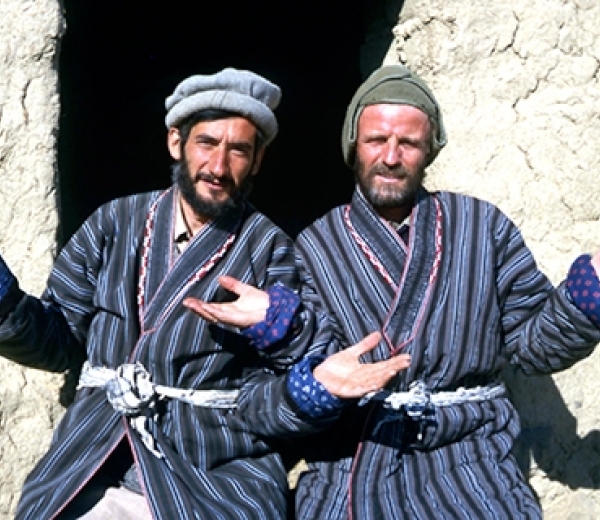 Text:
      Pascal with Bernard Kouchner, founder of Doctors without Borders, in Afghanistan, 1984
A rude awakening 
The first attacks by Armenians against Turkish diplomats in the late 1970s forced Pascal to deeply ponder his identity. Until then, he considered being Armenian a strictly private matter mostly connected with memory. But the aggression pushed him to open a Pandora 's box. He even went to interview the Turkish ambassador, who was a victim of an attack. 
Image: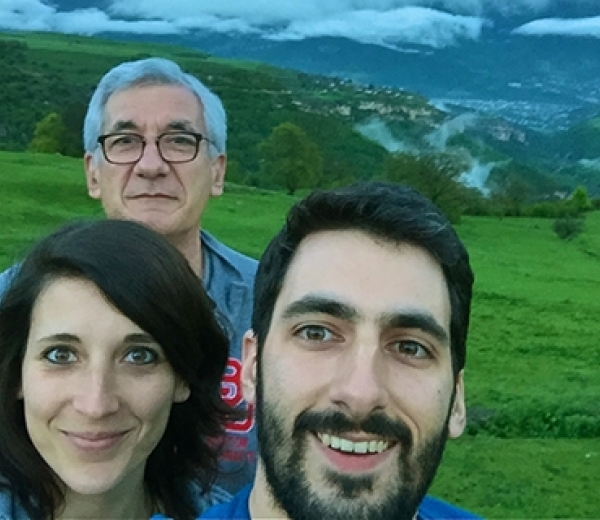 Text:
                          Pascal with his two children Meryl and Vahe in Armenia, 2015
Between French and Armenian, Armenian and French, Pascal's identity is complex. On his birthday in 1984, he went to Armenia for the first time with his father. In the year of the centennial he took his two children, Meryl and Vahe, to Armenia with him. In a cave in the vicinity of the Noravank monastery, they left a picture of Pascal's father, in memory of the past.
Subtitle:
French hot spot reporter with upheaval in his past
Header image: